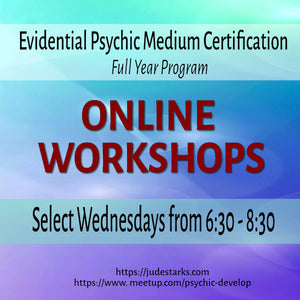 EVIDENTIAL PSYCHIC MEDIUMSHIP CERTIFICATION ONLINE 2022 Workshops
Jude Starks
Regular price $40.00 Sale
TOGGLE THE DATE FOR A DROPDOWN DATE MENU
EVIDENCE BASED, PSYCHIC MEDIUMSHIP COURSE 2022 - With Monthly Online Live Interactive Workshops & Live Practicum Sessions.  Students signed up for the yearly course will receive monthly links to attend the live online sessions.  The practicums will be held in Denver at Goddess Isis Books.   All workshops and practicums are required for certification.
Jude Starks, Spiritualist, Evidential Psychic Medium & Trance Medium 970-302-4919, Email: jude@judestarks.com 
COST - $ 40  Online Workshop from 6:30 - 8:30 on Selected Wednesdays.
Join us in classes of a NEW YEAR LONG MONTHLY training series including both workshops and corresponding practicums by Jude Starks & Intuitive Studies Institute, in an Evidenced Based Psychic Medium training course.  Jude is an Evidential Psychic Medium, Trance Medium, Hypnotherapist, Master Practitioner and Trainer of NLP, MER & Hypnosis, Reiki Master Teacher, highly regarded Psychic Development and Mediumship Trainer, Spiritualist (UK associated), Pharmacist and naturally psychic from a young age with additional training by taking many UK based Arthur Findlay College Tutor's courses and mentorships.
In this series, you will be expanding and learning through a step by step process, learning techniques that the World's Best Mediums use.  I've incorporated a number of practices and methods that I've learned, from the many classes I've taken for several years from many Arthur Findlay College Tutors and included some content which is channeled. 
We begin with Evidential Psychic skills and master those in the first half of the year.  We then move into Evidential Mediumship Skills, learning and demonstrating true connections and receiving information from the Spirit world, for the rest of the year.  All classes are required as the series builds on itself.   After taking the entire class series you will be able to demonstrate proficiency in Mediumship and Psychic skills. Here's the good part, I only work with groups of 20 or less, because I do a great deal of individual evaluation of skills and methods in the group.   We have a terrific track record as many of our students, who've completed the course, are successfully working as evidential mediums. 
Over the year, we will be taking a deep dive as you learn new and effective skills, starting with your personal assessment; going into expanding, linking and exploring the "clairs"; opening new psychic abilities, understand psychic vs. medium practices; expanding your tool box to learn psychic techniques. Then as the year progresses we will be doing deep inner work and releasing and moving from psychic skills into expanding mediumship abilities, learning Spirit linking, practicing Spirit linking and holding the link for Mediumship, and a whole lot more including practice and fun.  There are 24 classes in the series.
The Workshop series is held ONLINE one Wednesday monthly from 6:30 – 8:30 pm  Cost for each class $ 40
The Practicums ONLINE one Wednesday monthly from 6:30 - 8:30 pm Cost for each practicum is $25. Check the schedule for the dates.
You can sign up here for the FREE CLASS: https://mailchi.mp/judestarks/free-intro-class-2022-psychic-mediumship-course-online-jan-12-2022  and …GO HERE for the entire class schedule https://judestarks.com/pages/certification-classes-denver or...